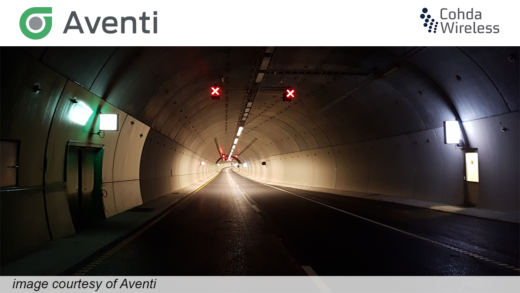 NORWEGIAN TUNNEL GETS TECH TREATMENT IN GROUND-BREAKING TRIAL
NORWEGIAN TUNNEL GETS TECH TREATMENT IN GROUND-BREAKING TRIAL
A successful trial of a vehicle positioning system in Norway has positioned the Scandinavian country to become a potential world-leader in the application of V2X technology in road tunnels.
The trial was carried out in the Bjørnegård tunnel in the municipality of Bærum by the Norwegian tunnel technology company Aventi, in partnership with connected autonomous vehicle technology company Cohda Wireless.   The purpose of the trial was to demonstrate the efficacy of Cohda Wireless's world-leading vehicle positioning solution, V2X-Locate, in the newly-built 2.2km tunnel.
V2X-Locate was developed by Cohda Wireless to solve the problem of accurate vehicle positioning where GNSS (GPS) systems usually perform poorly, for example in urban canyons, underground carparks and tunnels.   Four of Cohda's Road-Side Units (RSU's) were positioned at intervals inside the tunnel and following a range of tests, Cohda's V2X-Locate solution was proven to be able to locate a vehicle moving through the tunnel with a high degree of accuracy.
The trial paves the way for the introduction of reliable Cooperative Connected Automated & Automated Mobility (CCAM) and Cooperative Intelligent Transport System (C-ITS) technology services in tunnels which make up 1400 kilometres of Norway's roads.
Bjørn Elnes, systems engineer at Aventi said:
"C-ITS currently relies on good GPS reception under open sky, but this test proves that we can make it work in tunnels as well. This was a fairly short tunnel, well suited as a proof-of-concept, but we hope we'll get the opportunity to implement this in the really long tunnels, like the E39 RogFast which will be 27 kilometres long, with complex exit ramps and two roundabouts in the middle," explained Mr Elnes
"In addition to increasing safety and convenience for drivers currently using the tunnels, it will also enable autonomous shuttles to traverse these tunnels," added Mr Elnes.
May Bente Hiim Sindre, project manager at the Norwegian Public Roads Administration said:
"The Norwegian Public Roads Administration is a major developer and supplier of services to our society and motivates R&D and innovation related to the tasks we perform. We do this together with other contributors to the transport sector, such as Aventi. This is a unique opportunity to adopt new technologies that further develop the infrastructure and transport solutions for the new E16 from Sandvika to Wøyen and the Bjørnegård tunnel."
Cohda Wireless Chief Technical Officer Prof. Paul Alexander explained that the Bjørnegård tunnel is a road transport environment in which GPS & Dead Reckoning positioning can be off by up to 40 metres and the challenges associated with this are usually demonstrated in relation to autonomous vehicles, but as this trial demonstrates, it will be essential for a successful roll-out of C-ITS in countries like Norway.
"Being able to locate vehicles with a high degree of accuracy in a tunnel of these vast dimensions,  without causing interference to other radio signals used in the tunnel, bodes well for the introduction of autonomous vehicles and busses," said Prof. Alexander.
All media enquiries can be directed to:
Grant Law
Grant Law Public Relations
+61 488 518 414 / grant@grantlaw.com.au