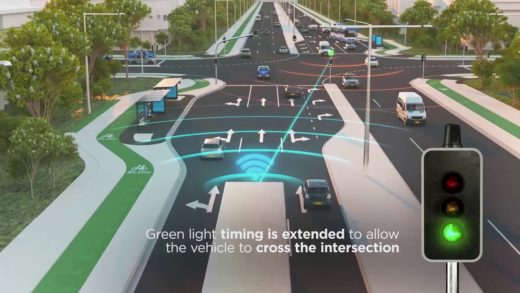 BIG WHEELS KEEP ON TURNING – Cohda Wireless technology in innovative trial to keep traffic moving in Sydney, Australia
Cohda Wireless's connected vehicle technology is being applied in an innovative trial that aims to reduce traffic congestion in Sydney.
The trial, an initiative of Transport for New South Wales in conjunction with the Roads and Maritime Services, seeks to remedy traffic congestion by better managing the flow of trucks. More than 100 participating freight vehicles have been fitted with Cohda Wireless technology to allow them to effectively 'talk' to traffic lights, keeping the light green as they approach so that they keep moving through the intersection as  opposed to having to slow down, stop and pull off again – a major cause of traffic congestion.
Cohda Wireless chief engineer Fabien Cure said:
"We have all experienced the frustration of being stuck behind a truck as it slowly grinds up through the gears once the light turns green. Sometimes the light turns red again before we even reach the intersection. By coordinating traffic lights and trucks we hope to gain evidence of improvements to the flow of traffic on these roads."
Cohda Wireless will be working closely with Roads and Maritime and Transport for New South Wales to analyse the results over the three-month period of the trial.
"The results of the trial will be of great interest to a global audience of city transport authorities as it will test whether traffic flow in a defined corridor has improved, the CO2 footprint of the specific intersections has reduced and the amount of fuel saved by the trucks involved" added Mr Cure.
The trial site consists of 40 kms (25 miles) of important freight routes in Pennant Hills, Parramatta and King Georges roads, some of the busiest thoroughfares in the region.
To view an animation of how the system works click here.
This project is a great step forward in Sydney becoming a Smart City. In Cohda's experience, road operators who wish to implement Smart City infrastructure in order to realise the benefits of Connected and Autonomous Vehicles, can find themselves in a chicken vs egg scenario.
Smart Cities need to deploy infrastructure to support the concept but some find it hard to justify the cost of this infrastructure deployment before there are vehicles that can make use of it.
To solve this problem, Cohda has developed a three-phase Smart City Architecture rollout model. In Phase 1, foundation applications that can generate  immediate net benefits to the road operator, are deployed.
Phase 1 having been implemented, the appropriate infrastructure is already in place when V2X Connected Vehicles hit the road in Phase 2 and then Connected Autonomous Vehicles in Phase 3. For the road operator to unlock the benefits enabled by new vehicles in the second and third phases, their infrastructure only requires new software.
Cohda's model means that Smart Cities do not need to become experts in V2X and CAV and can be assured that they have the latest software stacks and applications to support these vehicles, and with the appropriate foundation applications they can deploy V2X infrastructure now and receive immediate benefit.
"Our technology can be deployed in any city in the world and we invite road transport authorities to speak to us if they are interested in improving traffic flow on their roads," added Mr. Cure.