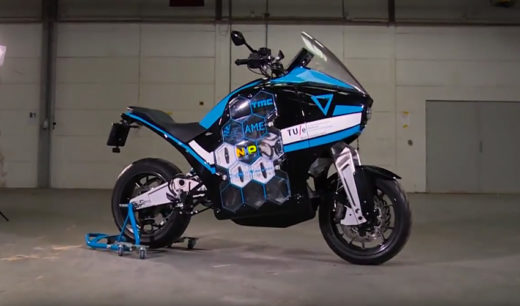 STORM Pulse — the first electric touring motorcycle
August, 2017
In 2016, two revolutionary electric motorbikes, supported by Connected Vehicle solutions from Cohda Wireless, undertook an 80-day around-the-world odyssey.
Dubbed STORM Eindhoven, the initiative involved a team of 23 students from Eindhoven University of Technology in the Netherlands circumnavigating the planet on motorbikes of their own design and construction.
Covering 26,000 kilometres in 80 days, the motorbikes used Cohda's MK5 OBUs to enable autonomous communication with support vehicles and infrastructure. As well as monitoring motorbike performance during the journey, Cohda demonstrated how these solutions improved vehicle safety and traffic efficiency in cities, such as Shanghai, with infrastructure installed. [link to appropriate page]
The STORM World Tour began in the southern Netherlands city of Eindhoven, starting a route that circumnavigated the northern hemisphere, leaving Europe via Central Asia and then crossing North America before returning to Eindhoven.
With a top speed of 160 km/h, the bikes could travel as far as 380 km before requiring a recharge. The student-designed batteries contained 24 separate cartridges storing as much as 28.5 kWh energy.