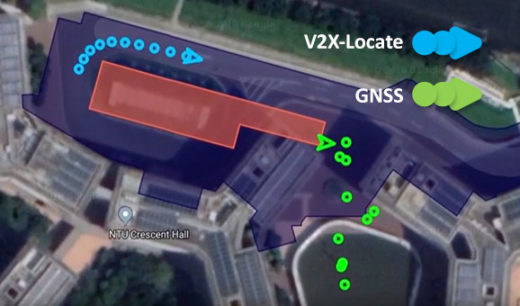 COHDA WIRELESS V2X‑LOCATE vs GNSS IN UNDERCOVER CAR-PARK
October 2018, Cohda Wireless conducted a demonstration of its world-first V2X-Locate technology at the NTU-NXP Smart Mobility Showcase in Singapore.
Although GPS (Global Positioning System) navigation systems have revolutionised transport during the past decade, they can suffer from degraded accuracy in locations with compromised sky views, such as "Urban Canyons" formed by high-rise buildings, underground carparks and tunnels.
As this video demonstrates, Cohda's V2X-Locate technology enables accurate positioning of the vehicle in an undercover car-park where GNSS positioning accuracy is significantly degraded.  Using Cohda's expertise in developing collision avoidance technology this vehicle-based system, V2X-Locate, can identify vehicle position to sub-one metre accuracy 95% of the time.